Been busy at the studio this past week! Woo! Inspiration comes with spring me thinks... Took some pics yesterday, since it was sooooo nice outside. Here is one I took with telephoto lens...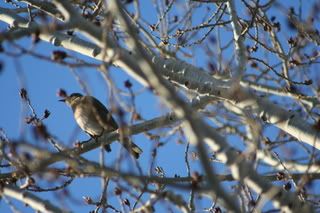 I really need to get a computer for the studio (laptop would be ideal).. Most of my paint references are from photos and it would make life so much simpler for me... Not to mention, I need music in the studio as well... Tunes are a MUST! Oh and I need more lights.. The overhead florescent suck! Suck real BAD!
Yep yep!
So I will post some more pics of studio work when I can. =) Happy day to you!